Chemical Storage Tank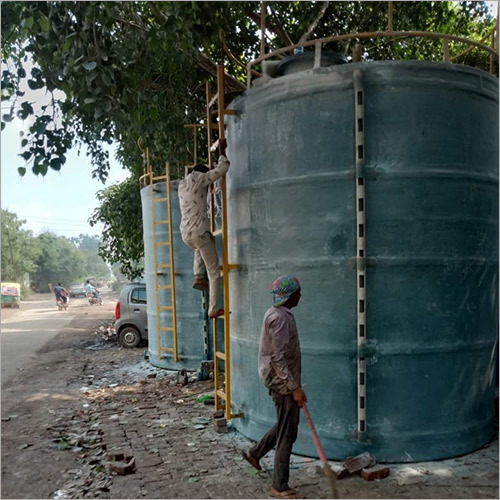 Chemical Storage Tank
Price And Quantity
Product Specifications
Chemicals,Acid

Chemical Storage Tank
FRP

1 kl to 100 kl Kiloliter/day
Product Description
FRP Chemical Storage Tank - a Corrosion-proof Vessel FRP chemical storage tank (also known as FRP chemical storage vessel), is manufactured by ghaziabad FRP Engineering process and designed to store high corrosive chemicals like acids, alkalis, alcohols, mineral oils and esters. It can used at high temperature, under high pressure and performs well in preventing seepage, leakage and overflowing. We offer FRP chemical storage tanks in various dimensions and colors to meet your requirements. In addition, FRP chemical storage tanks can also be offered with suitable agitators, ladder, gear box, electric motor and other accessories.
Features
Ideal choice for storing of acids, alkalis, salts and other chemicals.
Be adaptable to a wide range of temperature. High physical & mechanical strength.
Low thermal conductivity & good insulating qualities.
Being corrosion & weather-resistant. Seamless & one piece design.
Glossy finish reducing pump loads & easy to handle. Maintenance free, no need of changing the liner layer.
Durable & having long service life. Economical & cost effective.
Application
FRP chemical storage tanks which can store acids, alkalis, bromine, caustic, chlorine, alcohols and other chemicals, are widely used in chemical, pharmaceuticals, petrochemical, desalination, power, refinery and sewerage treatment plants.
Product Details:
Capacity: 5000-10000 L, 1000-5000 L, 1 KL TO 100 KL
Storage Material: Water, Chemicals/Oils, Waste
Material: PE, HDPE
Features: Leg Support, Vertical Orientation, High Temperature Resistant, Level Indicator
Equipped, Horizontal Orientation
Wall Thickness (mm): 8 MM TO 70 MM
Color: Black
Capacity (Kl): 100 KL
Condition: New
Shape: CYLIDRICAL VERTICAL STORAGE TANK
Material Grade: PIPE GRADE
Diameter (cm): 300 MM TO 4000 MM
Material Of Construction: HDPE ,PP
Temperature (deg. Celsius): -40 TO 120
Warranty: 2 YEARS
Uv Protection: YES
Brand: ghaziabad FRP Engineering
Application: CHEMICAL STORAGE
Storage Capacity: 5000-10000 L
Tank Orientation: Vertical
We are offering Chemical Storage Tank to the clients.
Contact Us
Mahesh Enclave, Chhapraula, G.B Nagar, Ghaziabad, Uttar Pradesh, 201009, India
Phone :+918045813569